The Big Apple - Part 1
Season 1, Episode 1
Date Played
July 2, 2010
Location
New York City
Challenge
Climb to the top of the Statue of Liberty.
Reward(s)
Bicyles
Winner(s)
Screaming Travelers
Episode Guide
previous
"N/A"
next
"The Big Apple - Part 2"
This season begins with our Twenty Contestants begin this season by dividing into two teams. They do their first challenge which one teams win.
Chris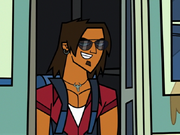 Chris]] introduces the new season with some of the old contestants, and introducing two new contestants,
Alejandro
and
Sierra
.
Sadie
is determind to win this time, and will do anything to win. The contestants are dropped out of the plane and land on a safe spot by the Statue of Liberty, Chris announces the challenge and set up the teams; the
Screaming Travelers
and the
Killer Adventurers
.
Courtney
and
Noah
find a way around the challenge and climb the stairs up to the top of the head, but Courtney pushes Noah down and wins the challenge for the Screaming Travelers and the bikes.
Despite Eva always having a bad mood, in this episode she was a little bit more controlled then usual.
Lindsay's Name Goof: Lindsay called Alejandro "Alhandro" and Tyler "Tyson".